Our Pastors
Our Pastors
Good Shepherd is blessed to have two wonderful pastors who would love to meet you!
Pastor David N. Rutschow, vacancy pastor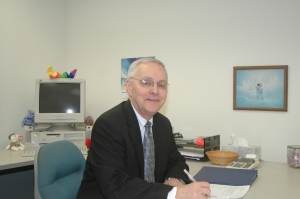 I was neither a prophet, nor a prophet's son, but I was a shepherd and also took care of sycamore-fig trees.
- Amos 7:14
My father was a dairy/beef/crop farmer in west central Wisconsin. I liked farming so much that I spent the summers of my high school and college years working on my father's farm, but I was drawn away from cattle, crops and farm machinery.

Being a Lutheran pastor was an idea in my mind as early as junior high. My family's pastor at the time had something to do with it. So did my mother and a seminary student who was a member of the little country church to which my family belonged. My mother was an organist and directed the choir.

High school was six hours away at the college preparatory boarding school for Northwestern College in Watertown, Wisconsin. The schools were on the same campus, so I spent eight years in Watertown, receiving a Bachelor of Arts degree in 1966. Seminary training took me to Wisconsin Lutheran Seminary in Mequon, Wisconsin, from which I graduated in 1970 with a Bachelor of Divinity degree.

A new mission congregation in Peoria, Illinois was my first place of service. While there I spent many Sundays on the road, because I became involved in starting two churches in central Illinois and one in southeastern Iowa. I accepted the call to serve as the first resident pastor of Good Shepherd in Downers Grove in 1977. The congregation was less than a year old and holding worship services in a motel. Since then I have been privileged to be involved in three building programs here, as God has blessed the church and school with growth.

My wife, Pauline, and I were married in the country church of our youth. God has given us three children: A son, Paul, who is also a pastor; a daughter, Kristin, who was a Lutheran elementary school teacher for several years; and another daughter, Annette, who is currently living with us. In addition, God has blessed us with seven grandchildren.
In 2016 I entered semi-retirement, and my role at Good Shepherd went to that of being an assisting pastor. In it, the congregation gives me the privilege of continuing to provide pastoral services to and with the people God has gathered at Good Shepherd, but in a part-time capacity. I would also count it a privilege to minister to you in whatever way I can.
Also, meet our Church Leadership.

Next, Find Us!